Polifactory
Polifactory is the makerspace of Politecnico di Milano. It has been created by the Department of Design together with the Department of Mechanics and the Department of Electronics, Information and Bioengineering. Launched in march 2015, it is a 300 space located at the heart of the Campus Bovisa which combines a Fab Lab together with a coworking. Polifactory is equipped with analog/digital tools and technologies to materialize innovative product-service ideas and experimenting production processes which integrate design and technology. Moreover, It is also connected with the network of design and engineering labs and workshops of the university.
Polifactory works on pre-incubation of young talents of Politecnico: master degree students and PhD candidates in design, mechanical engineering, electronics, computer science and bioengineering can apply to work in the makerspace. The selected people can work in Polifactory for three months. During this period, they can develop their individual projects and at the same time have to participate to the makerspace activities (a peer-to-peer learning process). In addition to this, Polifactory develops research and experimental educational activities exploring the relationship between design and new production models linked to emerging forms of open and distributed manufacturing. Polifactory is the scientific coordinator of Next Design Innovation on behalf of Regione Lombardia and Politecnico di Milano and support the designers in the development of their prototypes.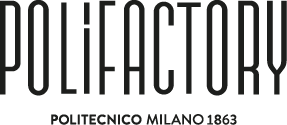 ELISAVA
ELISAVA is located in a modern 11,000 square-meter building, equipped to ensure the excellence of our educational project. The students can use a wide range of facilities to develop all their works: Media Lab, Science and Technology Laboratory, Graphic Workshop, Prototype Workshop, Computers Rooms and a Library that contains more than 9,000 books specialised in the fields of design, architecture and engineering, and more than 100 international magazines to consult. The Prototype workshop offers different services involving digital manufacturing, laser cutting and engraving, 3D printing and CNC milling, and it has a paint cabin, foam and plastic turning and a machine for thermoforming plastics. This workshop offers students the ability to manipulate, modify and experiment with materials for educational, representational, and expressive purposes. A range of facilities to learn, innovate and investigate to respond to the needs of a changing global society.